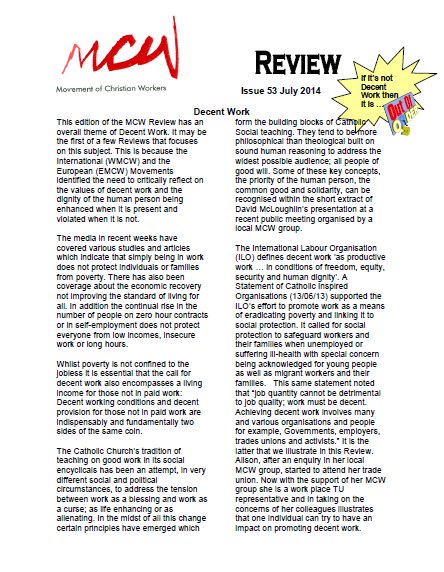 This edition of the MCW Review has an overall theme of Decent Work. It may be the first of a few Reviews that focuses on this subject. This is because the International (WMCW) and the European (EMCW) Movements identified the need to critically reflect on the values of decent work and the dignity of the human person being enhanced when it is present and violated when it is not.
The media in recent weeks have covered various studies and articles which indicate that simply being in work does not protect individuals or families from poverty. There has also been coverage about the economic recovery not improving the standard of living for all. In addition the continual rise in the number of people on zero hour contracts or in self-employment does not protect everyone from low incomes, insecure work or long hours.

Whilst poverty is not confined to the jobless it is essential that the call for decent work also encompasses a living income for those not in paid work: Decent working conditions and decent provision for those not in paid work are indispensably and fundamentally two sides of the same coin.
The Catholic Church"s tradition of teaching on good work in its social encyclicals has been an attempt, in very different social and political circumstances, to address the tension between work as a blessing and work as a curse; as life enhancing or as alienating. In the midst of all this change certain principles have emerged which form the building blocks of Catholic Social teaching. They tend to be more philosophical than theological built on sound human reasoning to address the widest possible audience; all people of good will. Some of these key concepts, the priority of the human person, the common good and solidarity, can be recognised within the short extract of David McLoughlin"s presentation at a recent public meeting organised by a local MCW group.
The International Labour Organisation (ILO) defines decent work "as productive work … in conditions of freedom, equity, security and human dignity". A Statement of Catholic Inspired Organisations (13/06/13) supported the ILO"s effort to promote work as a means of eradicating poverty and linking it to social protection. It called for social protection to safeguard workers and their families when unemployed or suffering ill-health with special concern being acknowledged for young people as well as migrant workers and their families. This same statement noted that "job quantity cannot be detrimental to job quality; work must be decent. Achieving decent work involves many and various organisations and people for example, Governments, employers, trades unions and activists." It is the latter that we illustrate in this Review. Alison, after an enquiry in her local MCW group, started to attend her trade union. Now with the support of her MCW group she is a work place TU representative and in taking on the concerns of her colleagues illustrates that one individual can try to have an impact on promoting decent work.